Facebook's Turn From News Is Really Hurting Publishers
John, 5 years ago
0
3 min

read
1635
Slate has seen a decrease of 87% in traffic coming from Facebook since January 2017.
The political news magazine Slate.com shared its internal data, showing that in January 2017, around the time Donald Trump was elected, they received 28 million visitors from Facebook. Last month, May 2018, they received less than 4 million. This is a staggering drop, and indicative of a trend that publishers have been seeing in the last year and a half.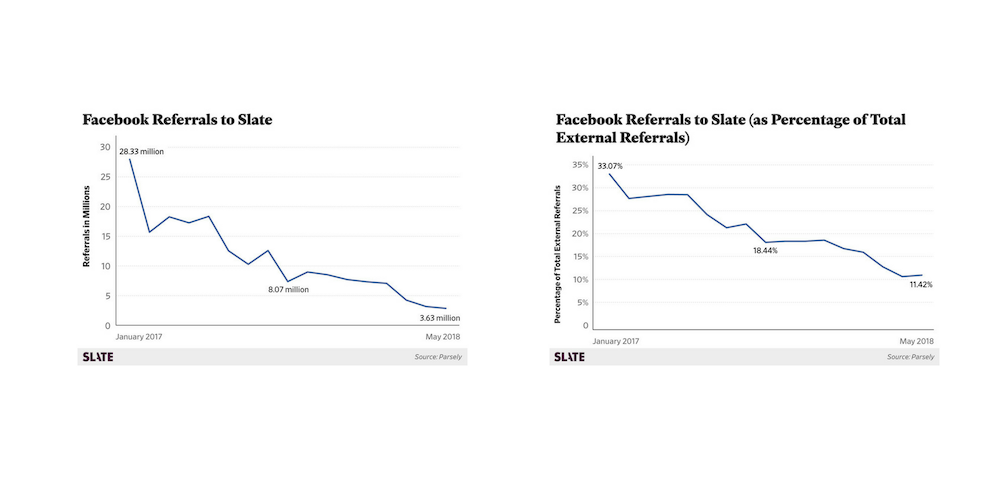 Highlights:
Studies drawn from public data such as likes and shares suggest that the renewed emphasis on posts from friends and family has had a noticeable impact on many news publishers.
Off the record, several major publications told Slate they're seeing less than half the referral traffic from Facebook that they were receiving in the first half of 2017.
From May 2017 to May 2018, Slate saw traffic from Facebook drop from almost 19 million views to about 3.6 million—a decline of 81 percent.
Similar brands such as Vox have laid off staff due to the loss of traffic from Facebook. Brands in this category such as New York Magazine, The Atlantic, and Vice have seen a drop in engagement.
The largest brands, such as the New York Times, CNN, Fox News, and the Washington Post, have not been hit as hard, suggesting they're benefiting, at least a little, from Facebook's new focus on "Trusted News Sources."
So what can brands take away from this?
We spoke with 301 Digital Media's COO, Andrew Becks, about the trends he's seeing with Facebook in the wake of their algorithm changes, the Cambridge Analytica scandal, and this Slate piece in particular.
Are your clients seeing the kinds of drops in engagement that Slate and other publishers are reporting? 
What we've seen among our clients and partner brands is almost a tale of two Facebook publishers: On one hand, we're seeing that brands which were focused on social engagements and driving meaningful connections with consumers and investing in growing their audiences with a focus on high-quality, high-engagement users and continue to produce high-quality, original content are actually doing pretty well, all things considered. While reach may be down slightly, we've seen some publishers actually able to reduce their spend on paid marketing via Facebook and maintain healthy traffic volumes from Facebook.
That's interesting. What do you think is hurting other publishers? 
On the other side of the proverbial fence are Facebook publishers that were focused on quantity over quality, in both audience and content publishing. These publishers, especially in the breaking news and similar content vertical where dozens of outlets publish stories that are substantively similar to one another all around the same time, reach has been decimated, especially for lesser-known brands or those brands that are less likely to invest in social media marketing. Many publishers and brands who find themselves in this category are stepping back, assessing the value of Facebook as a publishing platform, and looking for ways to diversify traffic streams.
So what do you recommend? Should publishers abandon Facebook altogether, or is there still value in Facebook?
Of our clients, I'd estimate maybe only 10-20% have really seen substantive drops in performance or traffic volumes from Facebook, all things equal, largely as a function of a consistent and strategic focus on driving social engagement on Facebook, rather than just "posting to Facebook". So maintaining that consistent and strategic focus is really important, and if done properly can really add value to their brand. Facebook (and Google) aren't going anywhere, ad spend projected to reach over $551 Billion. So the opportunity is there.
Go deeper:
Related posts