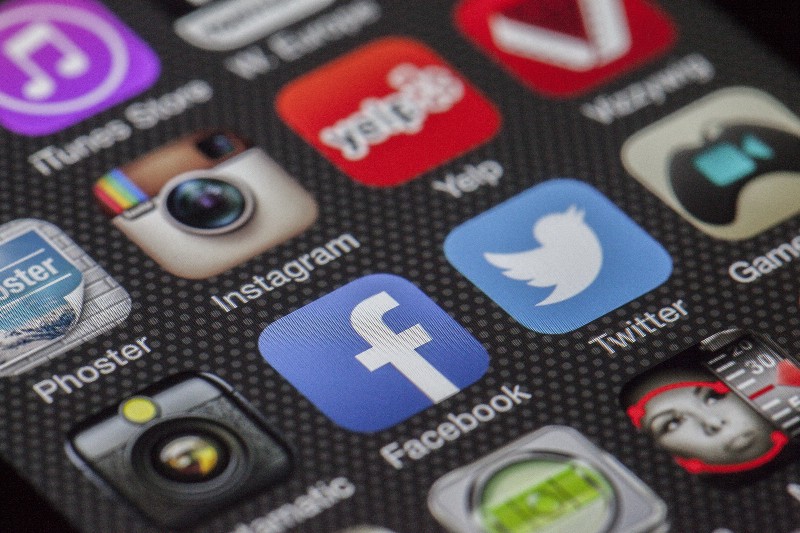 A Very Brief Introduction to Facebook Advertising
Andrew Becks, 6 years ago
0
5 min

read
3091
Overview
Facebook is the 100,000,000 pound (45,359,237 kg) gorilla in the digital and social media advertising industry. According to a May 2017 report from CNBC, Facebook is the world's second largest media owner (behind Google), and the only social network in the top 10.
There are a lot of reasons that Facebook has been successful in dominating the social media advertising market, and chief among them is ease of use and access. Nearly anyone can advertising on Facebook — all you need is a credit card and a little know-how, though the know-how is pretty optional.
Whether you're looking to build brand awareness, add new Facebook page likes to your brand's page, get people to watch your video, engage with your photos, redeem a coupon, sign up for a newsletter or nearly anything imaginable, Facebook can help your brand achieve its goals, and with a very low cost of entry. (It's true — most Facebook campaigns have minimums as low as $1/day. And while $1 isn't going to get you far, it's certainly worth a couple dollars to learn the ins and outs about this amazingly effective marketing platform.)
With all that said, Facebook's business and advertising tools change all the time. If you think of it like software, it's Gmail — not Microsoft Outlook.
What does that mean: If you think about traditional software like Microsoft Outlook, after installing the software you had to download software updates on an ad hoc basis in order to modify or change the functionality. Conversely, with Gmail, you're working in a browser. So, when Google makes a change, your browser is reloaded and the change is implemented.
With Facebook, everything changes all the time. Just when you've gotten the hang of the ad tools — they change.
So with Facebook, the only thing constant is change. Seriously. But, that doesn't mean that it's not worth using Facebook as a platform and leveraging the advertising tools and massive audience scale that they have to offer.
Boosted Posts v. Ads
Boosted posts are one of two types of primary ad types on Facebook. On Facebook, a Boosted Post begins as a regular Facebook post that you may share to your brand. For example, consider this Facebook post which contains a link to an article about the best movies on Netflix no one knows about from consumer technology website TechJunkie. (Disclosure: I am a member of the board of directors of TechJunkie.)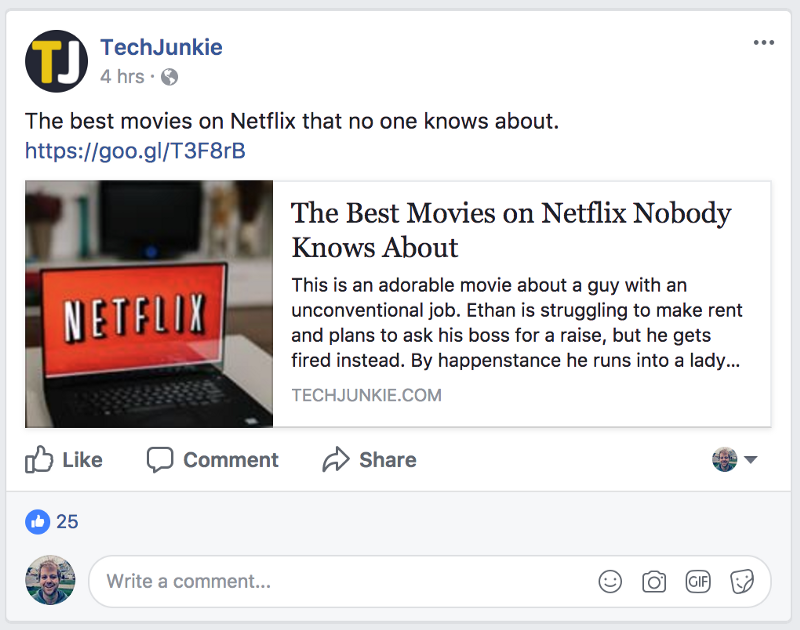 This post appears in the Facebook newsfeed just like any other post. This is considered an organic post, as it is posted and appears organically — without any paid advertising.
Due to the nature of Facebook's newsfeed algorithm, when a brand like TechJunkie publishes to Facebook, only a very small percentage of the brand's overall audience will actually see the post; usually 2–5% of a page's followers will see the post. To extend the reach of the post to more users — either your page's followers or other Facebook users — you can boost your post, by applying a marketing budget to it.
When boosting a post, Facebook will boost the reach of your post to a larger audience, based on a predefined set of interest and demographic targeting that you preselect.
In the example post, we may choose to boost it among Facebook users who fall into the following targeting parameters in this basic example.
Gender: Male, Female
Ages: 16–26 years old
Location: United States
Interests: Twitter, Social Media
The targeting is important, because the more engaged the audience your post appears to be, the more successful your campaign will perform. The better your targeting, the lower your ultimate cost per objective, whether it's link clicks, post shares or something entirely different. (Facebook has tens of thousands of interest, behavioural and demographic targeting options available, spanning a large array of industries and psychographic sectors.)
Another advantage to boosting posts is that as users share, reaction (like, love, etc.), and comment, the post appears to those users' friends, extending the reach beyond your direct paid efforts — and generated earned media for your campaign.
Conversely, Facebook also offers traditional ads, which do not appear within a page's timeline organically, and instead appear only as a result of paid and earned media efforts. These ads may also be referred to as "dark posts" or unpublished posts, because they are only visible to specifically targeted users, and not appear on your brand's Facebook page timeline to anyone who is publicly browsing the page.
Ads can be useful for myriad reason, but consider an scenario for a retail clothing store brand, Clothing Company Ltd. The company has 100 stores across the UK and US. They are planning to run a Facebook campaign that includes hours of operation and address to the store closest to the user seeing the ad.
Rather than posting 100 different Facebook posts and hoping that they reach the right users, leveraging unpublished posts/ads can allow the brand to flight 100 different creative variations, and limiting the deliver based on each user's geographic location.
Facebook advertising can seem overwhelming, but getting started can be affordable and easy to do. The good news is that results are reported in a near real-time basis and, no matter the objective, Facebook's ad platform has the tools necessary for you to achieve campaign success and a positive return on ad spend.
Related posts